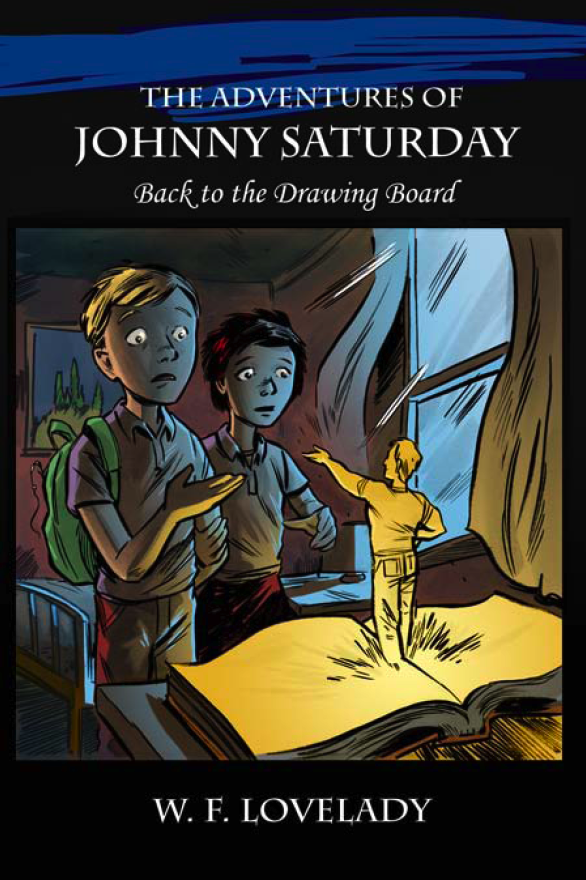 The Adventures of Johnny Saturday: Back to the Drawing Board
by W. F. Lovelady
Description
      Eleven-year-old Johnny Saturday does his time at Brook Middle School waiting to indulge in his favorite activity—drawing. Lately he's been pondering a mysterious journal he found in his attic and later using it to sketch a toy action figure named Max. Johnny is reminded of a bizarre dream about Max, a lady fairy named Kabladine, and a sinister villain. During the dream, Johnny, Max, and Kabladine race to save Johnny's younger sister, Sarah, from the sinister villain named Black Piet. Was it all just a dream? Johnny wondered.
      Johnny's obsession with the journal begins to distort his reality as he notices the mother of missing schoolmate Polly Pritchett who curiously reminds him of the fairy. A series of strange events at school and at the neighborhood lake convince Johnny and his friend Lola to sketch toy action figure, Max, in the journal once again. In doing so, Johnny brings Max to life. Soon after, Johnny relents to Max's pleas to help him rescue the now captured fairy Kabladine. Suddenly everything becomes dark, absolutely dark.
      Using his courage and a magic journal, Johnny Saturday travels to mythical Antarctica to capture a dark villain, return a princess, and save kidnapped schoolmates!